Blog
Nepali News Portals and How they have fallen for Alexa rankings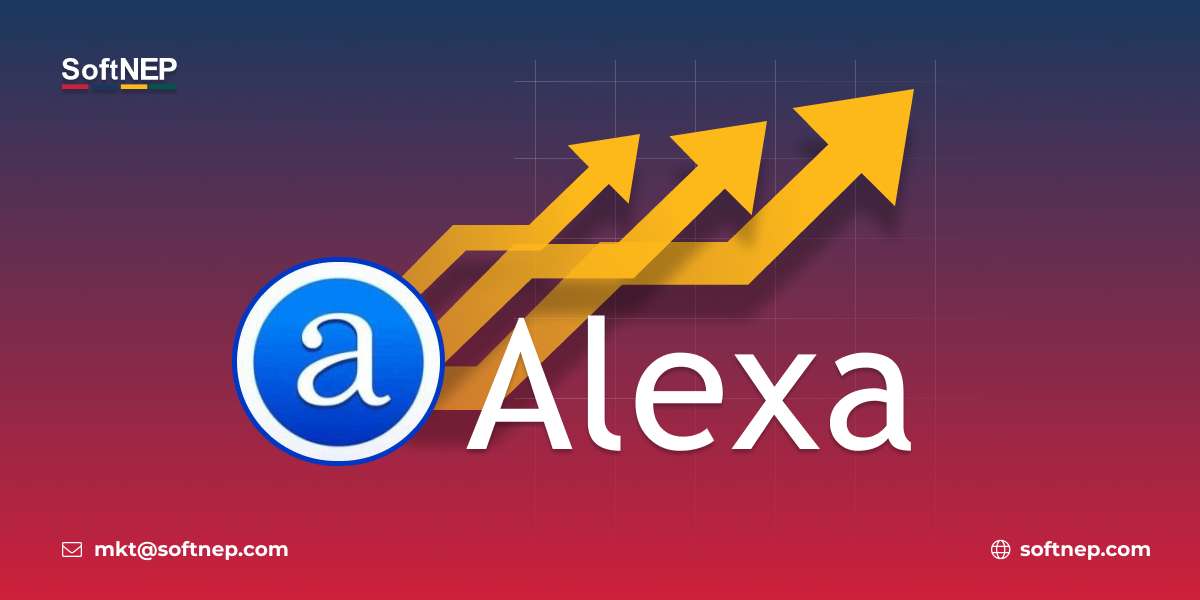 How do Nepali News Portals view Alexa rankings?
If there's any industry that is creating enough jobs for web developers in Nepal then it has to be the media sector. With over 1000 registered online news portals and another 1000+ amateur news websites, the media industry has not only created massive job opportunities for journalists but also web developers.
Even radio stations whose official websites were meant for providing organization info and audio streaming are now extending their online presence as digital newspapers. The digital shift that the whole world was talking about is now getting real even in Nepal.
Nepalese no longer wait for the next day newspapers to be informed and with mobile internet on the rise news information is literally in our hands and instantaneous. Traditional advertising agencies who were slightly left behind have now jumped into the web-o-sphere and almost every agency now has a digital wing that solely focuses on online campaigns. Big brands have now realized the potential of digital marketing and have thus started to splash more budget into their online marketing.
With this, the race to become the number one online news portal in Nepal has increased multi-fold times. Bloggers and agencies have started coming up with posts and ratings. One of the most widely used ranking tools in Nepal is Alexa and almost every news portal wants to be seen as its top site.
While everyone in Nepal is running after Alexa rankings, I am probably among one the few users who would not buy into their inaccurate rankings. Although Alexa is owned by Amazon, in my opinion, it's one of the worst products they have ever come up with.
Having worked on several news portal development projects I know that their rankings are just not accurate. Their rankings have nothing to do with the actual traffic that the websites generate. Our official website SoftNEP once ranked in the top 50 and we hardly had more than 500 daily visitors. On the other hand, there was one media website that we had been managing and used to have more than 10,000 daily visitors, almost 80 percent from Nepal. It used to rank outside 500. It was obvious that Alexa was pretty much flawed. To confirm the results we compared the traffic and respective rankings of several websites and realized the rankings were just not correct.
Alexa Top Ranking Sites in Nepal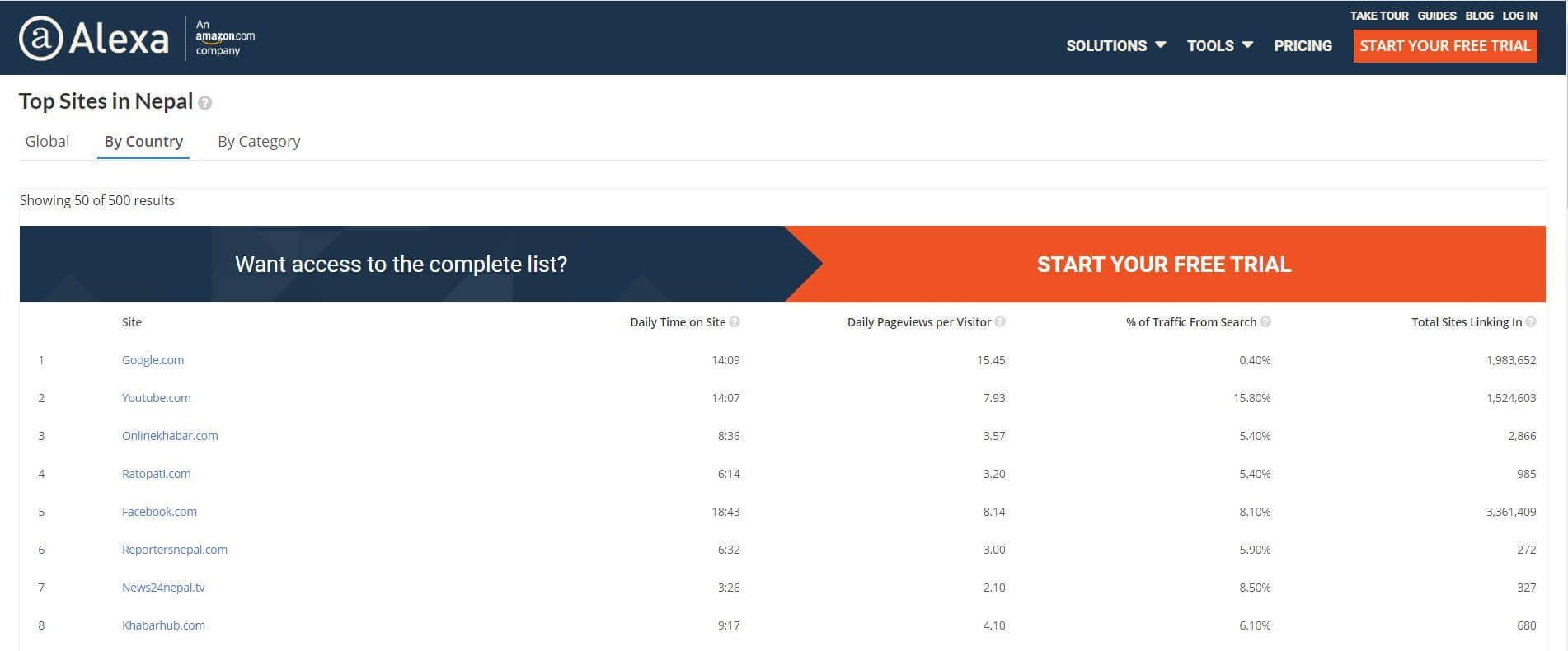 In the above image, you can see some of the top sites in Nepal as per Alexa's rankings. In that list, you can see Google has been ranked as number 1 and Facebook is at 5. Then if you try and look at the number 4 you will see a site - Ratopati that you might have heard of before. But does Ratopati really garner more traffic than Facebook? This certainly does not look normal, does it? If you click on Facebook's Alexa detail page you will see that they mention their traffic statistics as "This site's metrics are estimated."
On the other hand, if you look into Alexa's detail page of Onlinekhabar.com, eKantipur.com, News24nepal.tv, Osnepal.com, and other Alexa high-ranking sites you will notice one thing in common. "This site's metrics are certified." And what do you need to be certified? Well one would need to pay Alexa
eKantipur.com in February 2018 subscribed to the paid plan of Alexa and their ranking shot up immediately.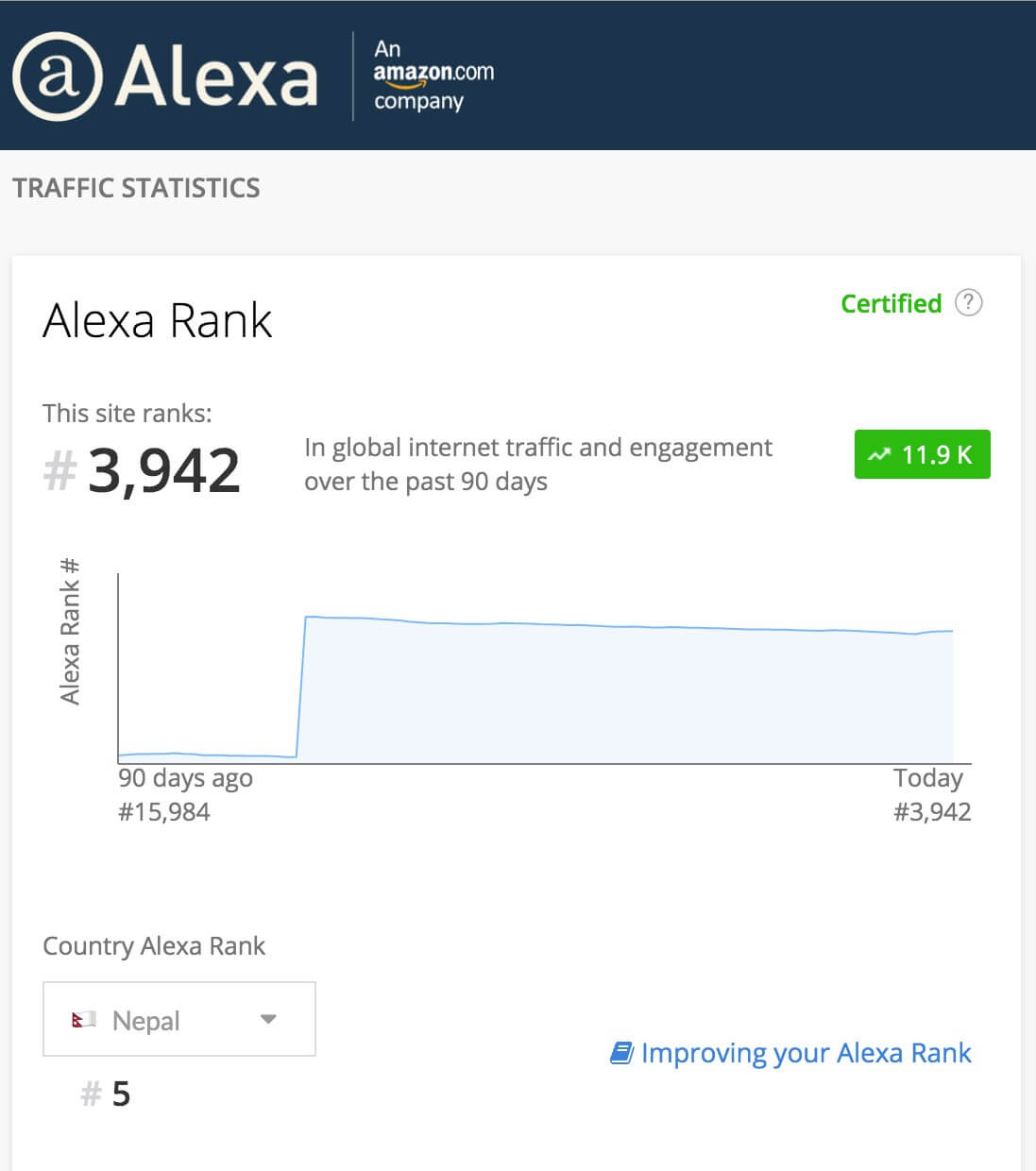 If you try comparing the rankings for sites in India, China, the United States, or any other country you will hardly see any of the top sites trying to certify their metrics. So much so that even Amazon.com doesn't have its site verified – Amazon.com on Alexa
So why would Nepali news portals want to be seen as high-ranking sites?
Yes, correct!
To influence advertisers.
Unlike other countries where websites monetize their revenue based on clicks and impressions, Nepali news portals still use "display banner adverts." While a conscious advertiser would always ask for a Google Analytics report, many organizations, agencies, and advertisers in Nepal easily fall for the Alexa ranking.
Irrespective of the rankings, my personal recommendation for news agencies will always be to come up with accurate reporting and credible stories. Also, having a niche audience has a much bigger impact than just reaching out to almost everyone online as that results in repeat visitors and an ongoing royalty.